Dog Grooming Salon for Dog Grooming Models
We are predominantly a dog grooming training centre which means our trainees require dog models to gain more experience.
To ensure both dog and trainee has a pleasant experience, we are only able to accept dogs that will be comfortable with the grooming process and are used to being handled for our trainee cuts.
We are always on the lookout for new dog grooming models, especially wire-haired terriers for hand stripping, but there are some breeds we are oversubscribed for, e.g. spaniels. We will always try to fit suitable dogs into the trainee timetable but please be aware we are not always able to guarantee this.
Our £18 trainee groomer appointments are available from Monday to Friday. If you would like someone with more experience to groom your dog, an appointment can be arranged with our groomer trainer for a cut on a Saturday.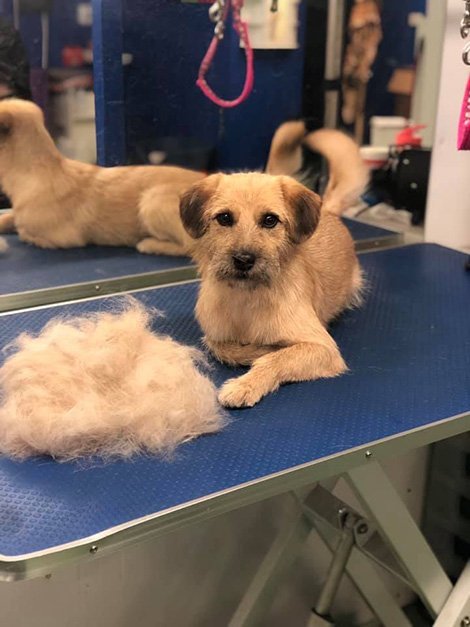 Groomer Cut
Our groomer trainers will fully supervise the clip, making sure your dog gets the best possible result.
Ear Clean & Pluck (if required)

Full Clip to your specification

Cut By A Trainee With Professional Supervision

4 Hours ( 10:30am or 1:30pm)
As grooming professionals, we know that a trip to the dog grooming salon is not always high on your pet's wish list. We are here to change that!
Does this mean the cut will be bad? Absolutely not. All it means is that the cut will take a little longer than one with an experienced groomer. Please allow around 4 hours for a trainee cut. Your dog will not be on the table for the entire time, they get plenty of breaks to run outside, have a snooze and refresh.
Our groomer trainers will fully supervise the clip, making sure your dog gets the best possible result.
At The Paw Pad Dog Grooming Salon, we do everything we can to create a positive, and happy, stress-free environment.
We absolutely, positively, completely and totally refuse to use cabinet dryers under any circumstances, preferring the one to one experience of hand drying each dog individually – this reduces drying time, stress and results in a nicer finish to the fur. We also do not cage dogs.
Our goal is to ensure that every dog comes away happy, relaxed and looking great with the feeling of having experienced the highest possible level of care. We want your pet to want to come back.
We are confident that, once you get to know us, you won't want to take your best friends anywhere else.