The Ultimate Guide to Starting Your Own Dog Grooming Business
Get the right dog grooming training course and you too can set up your own dog grooming business. If you love dogs, want to be your own boss and undertake the right training, you can become a dog groomer!
Our comprehensive guide gives you all the information you need to be pooch perfect when setting up your own dog groom business.
Dog groomers spend their days on their feet and are surrounded by dog fur. Damp dogs also give off that canine whiff, so it is fair to say dog grooming, like any other career, has its challenges.
Yet dog grooming can be fun, you can make new four-legged and two-legged friends and as time goes by, you will acquire regular clients for clipping!
Transforming a pongy pooch into a marvellous mutt is great not only for the dog but its owners too, as well as giving you a sense of achievement and of course an income.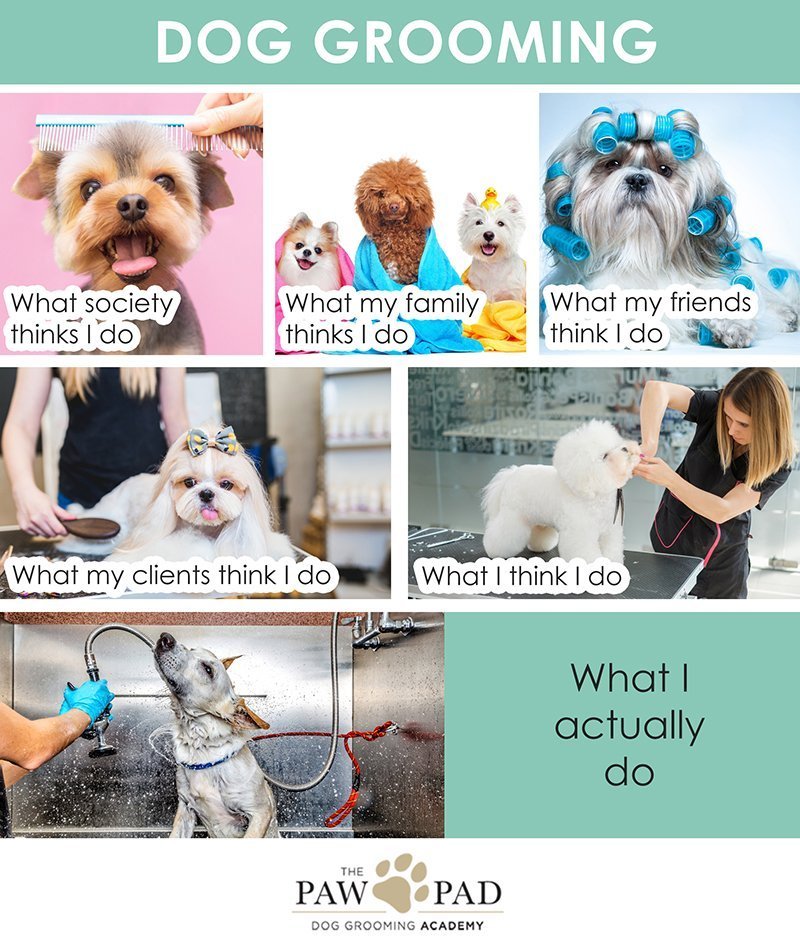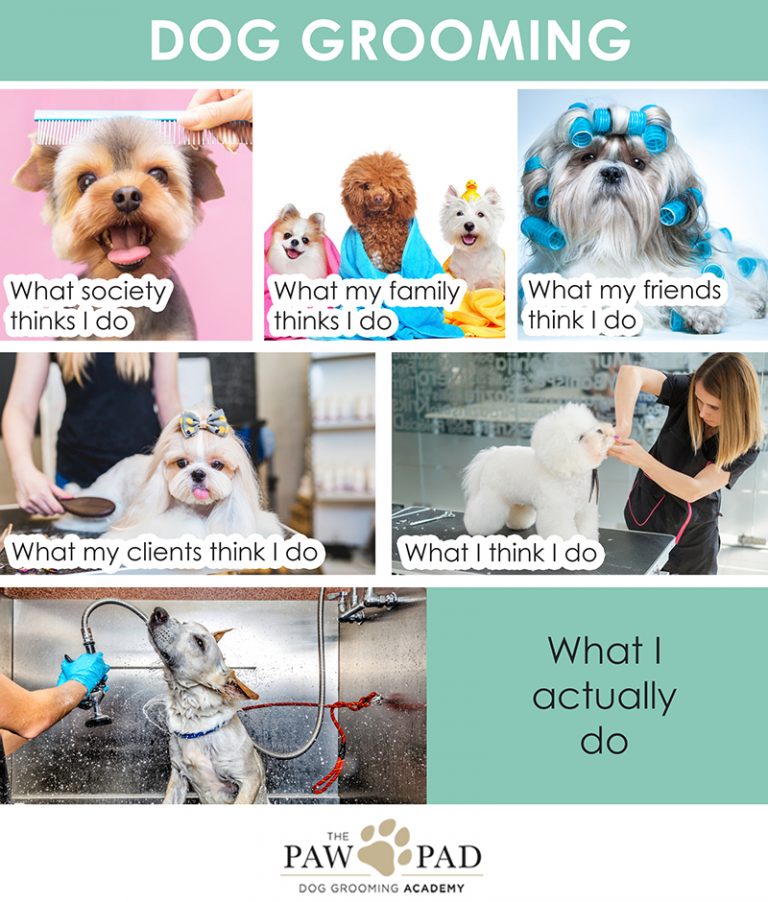 Not everyone wants to be a dog groomer, but if you've been inspired by BBC's Pooch Perfect, carry on reading …
Learning to Become a Professional Dog Groomer
Dog grooming can become a rewarding and lucrative career choice for the right person. It can be fun and can offer relative freedom and flexibility.
It means learning a new skill or if you have taken a career break, then now is the time to refresh your skills.
Dog groomers are lucky in that they can work from home if there's space. Some choose to go mobile with a van while others rent space in a dog grooming salon. The most positive aspect is the pooches you will meet, make friends with and help become spruced up and looking fabulous.
Elements to remember are the physical aspect of the role, and patience is not only a virtue but an essential skill: some dogs take up to 4 hours for a complete groom. The best courses allow you to enrol with little or no previous experience in the dog grooming profession.
The right course will provide you with everything you need, from identifying canine anatomy to choosing the right equipment. Other key aspects include health and safety, first aid, bathing, brushing and trimming, how to get rid of groom waste correctly, and everything in-between. The best courses will teach you principles, practices and techniques.
Have You Got What It Takes?
For some, dog grooming will be the dream job. There are some aspects that need to be considered, though.
It is a physically demanding job, taking its toll on your back, legs and lower arms.
You often work solo, with only the dog for company … although this can also be a total pooch positive!
You will need to deal with anxious dogs, too, and be confident with them.
While working with dogs is 'pawsome' and you might get your 'pawsonal' favourites, you need to be knowledgeable about all breeds and any new mixed or hybrid breeds that may come your way.
Think Labradoodle, Cockapoo and the Cavachon just for starters!
Do you have your own strengths you can bring to the business? Are you great with dogs anyway? Are you extremely patient? Have you got stamina if you need to work long hours?
While much of the time there's a lot of woofs, wags and wonderful results, there will be times when it is hard work.
How to Become a Professional Dog Groomer
To become a confident and successful dog groomer, you need the right training, support and qualifications.
We are happy to have a 'dogmatic' chat with you to help you decide. Talk to us and we're happy to advise if it's the right career for you.
Ensure you check out dog groomers in your area: these will be your competition if you decide to set up your own business.
Questions to ask yourself are:
Am I prepared to work outside regular hours?
What qualifications do I need?
Can I balance my business with family commitments?
Am I willing to work hard for the earning potential?
How will I go about getting clients once I've qualified?
These are questions we can help to answer. Just get in touch!
The best courses offer hands-on training led by fully qualified, experienced professionals. Once you qualify and start trading, you can charge higher rates as a result. (we advise against this and tell learners to match competitors right off the bat otherwise your client base is full of people looking for a bargain and rarely stay loyal)
You can learn on the job or take an online-only class. However, the best training includes handling and learning with a real, live pooch!
Formal qualification bodies include City & Guilds which awards recognised certificates for those who successfully complete the training. There are also independent, non-accredited qualifications which work on a centre-by-centre basis, depending on their framework.
We offer 3 levels of dog grooming certification...
Get to Grips with the Dog Grooming Glossary
You will soon get to grips with 'groomlish' (the language of dog groomers)!
There is a whole dictionary-worth of terms, from carding to topknots.
Our courses include a range of different cuts and styles, procedures and terminology and after a while they will be second nature to you.
Common dog grooming cuts include spaniel and drop coat cuts. In fact, it is said that a groomer can be judged on the quality of their skills with one of these popular trims.
Other trims include puppy cut, lamb cut, and Kennel cut.
Other important terminology including coat types, skirts and topknots will be addressed during training.
Setting Up a Dog Grooming Business
Before you set up your dog grooming business, you need to do your 'hound' work!
Homework including thorough research into the competition in your area.
Spread your search to cover the nearest towns and cities, as dog owners are often willing to travel to the best dog groomers.
Once you've found your competition, check if they're qualified and how long they've been in business. Always check if they have a website, social media platforms (and how active they are on their socials), and are they listed with Google My Business?
Dog groomers can offer specialist services so check which ones they offer. Some may specialise in competition grooming i.e., for Crufts. Others might be experts in large or toy breeds. Others might have developed their own niche or specialist area.
Once you've completed this research, you then need to make a business plan and include important aspects such as finance, marketing and equipment. There may be funding available for your business through the local council or, if you're under 30, through The Prince's Trust.
One key element to consider is the number of grooming appointments you can have in a day: if it is a complex groom, then you might only fit in two appointments. Your costings, charges and tariffs will need to cover your time and all other overheads.
The best way to set up a business is to ask for help, support and guidance from those who don't mind sharing their experiences. We can help you once you have graduated.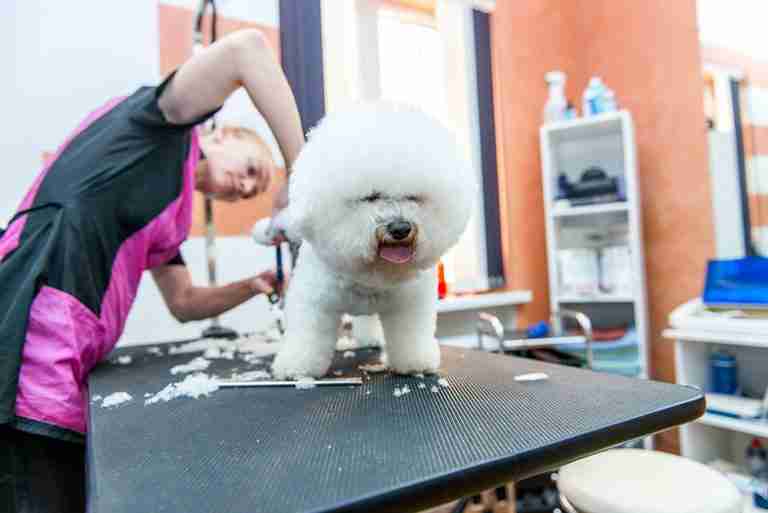 How to Grow your Dog Grooming Business
For new dog grooming businesses, there is a lot to consider.
Once you've qualified and had the correct support, the exciting times begin, and you can start to attract clients.
Luckily there are many ways you can do this.
First of all, have a professional website built for your business.
Ensure it includes vital components such as SEO, a blogging facility, book now button and is GDPR compliant so you can keep in touch with your clients.
Invest your time in social media posts on Facebook, Twitter and Instagram. Keep your posts consistent, professional  and with good call to actions.
You might want to set up a private Facebook group too.
Google My Business is invaluable and ensure you use all its facilities, including Google Posts.
Ask your clients to review you and use their testimonials on your website, on your socials and on professional networking platforms.
The best groomers know that each dog and each owner are total individuals and should be treated as such.
Ask the client how their dog was following a visit to your salon or grooming table; ask for feedback and be able to learn from client's comments so you can grow your business.
There are also traditional methods of advertising such as print advertising, which can be good for a local audience.
If you have the budget, local radio can also be helpful in getting the word out to new customers.
Dog Grooming Equipment List
A big yet enjoyable task is sourcing the correct and best dog grooming equipment.
We have a list of recommended sellers and have here's a brief overview list of key equipment.
Grooming table (static, hydraulic, or electric), holding frame, bellystrap, noose, clippers, combs, cleaning spray, various scissors, brushes, de-matting comb, undercoat rake, bath, dryer, various shampoos, towels, nail clippers, muzzles, tick removal tool, blood stop powder, canker … it's a big list.
You've also got to think about humans involved, so you'll need several waterproof and fur-proof shirts, PVC apron, pet friendly disinfectant, fragrance free baby wipes and PPE.
Check out our comprehensive, informative shopping list! 
What About a Licence and Other Aspects?
Currently, pet grooming businesses do not need a licence from their local authority, although if you choose to expand your business into other areas, then you might need to acquire licences for these.
You will need to be aware of industry legislation and standards, such as the Animal Welfare Act.
You will also need to have risk assessments, COSHH, business insurance and other cover such a public liability, employer liability and contents insurance.
There are specific dog groomer insurers out there that will provide clear advice. All this is covered in our course literature once your deposit has been paid.
You'll need basic knowledge of accounts and how to file them, unless you get advice from an accountant who will do all this for you. You will need to do some research to decide if you are going to become a limited company and register with Companies House. Keep all paperwork safe, ensure you are compliant with GDPR criteria, tax requirements and all legal matters.
How to Create More Income from Your Dog Grooming Business
Once you got a loyal customer base, regular clients and are confident with the canines, you could have some add-ons to upsell your business.
One important area is teeth cleaning.
Dogs and cats get all sorts of mouth problems, including plaque, tartar, cavities and of course the unwanted doggy breath scenario.
Vets love a dog (or a cat) with good dental hygiene, and it is one area that you could develop in time to come.
Other elements could be dog walking or pet sitting which might be suitable for quieter periods. Your local authority may require permits for this so make sure you do your research first.
What Are The Negatives Of Setting Up A Dog Grooming Business?
The set-up costs can be pricey.
High quality kit is essential, and all equipment needs to be maintained.
You also have to consider the various sizes of dogs and the equipment needed to trim small, medium or large breeds.
Other costs could be rent, utilities, insurance premiums, marketing and vehicle expenses if you decide to run a mobile business.
Most businesses take a while to set up and get going so it might be advisable to plan ahead with your finances while your dog grooming business 'takes shape'.
Insurance is an essential business expense, and you need to do your homework on this.
While it is a rare thing, accidents can happen and if a dog escapes while in your care, then you will most likely be held responsible.
Advice about all of the above is included within our courses.
What Are The Positives Of Setting Up A Dog Grooming Business?
The pooch positives are many!
Getting great training and qualifications is straight-forward and the best courses offer hands-on experience from the get-go.
If you love animals, then what could be better than working with our four-legged friends to earn a living?
You can build great relationships with both animal and owner.
Dog grooming does offer flexibility in where you have your salon: it can be done from a suitable room in your home, or through a suitable room rental or salon space.
There are sometimes opportunities to partner-up with veterinary surgeries, kennels, pet shops, and even charities.
Some groomers choose to go 'on the road' taking their vehicle and equipment around the area to carry out dog grooming duties.
The best dog grooming trainers are always supportive, and you can ask for advice at any time.
Becoming a dog groomer is exciting, rewarding and enjoyable.
It is also hard work and can be competitive.
Take the next step in becoming a dog groomer and becoming a business owner.
If your heart is set on being a dog groomer, then give us a call to start your training today!